Storm Damage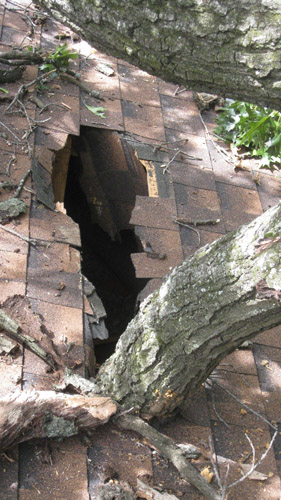 Violent storms can wreak havoc on trees. Heavy snows, strong winds such as tornadoes and hurricanes, and flooding can all create significant injury at different points in a tree's development. We all know that our Colorado snowfalls can be quite heavy and wet, and making a trip out with the broom to knock off heavy snow can help. However, if you think you might have minimal damage from a snow storm here are a few tips to follow:
First: Inspect the tree for signs of cracking or damage. Look for branches that might be hanging up in the canopy or cracks in larger limbs.
Next: If possible you may remove small broken branches by cutting the branch at a node using pruning sheers. Make sure to cut at a 45 degree angle to create a clean wound and only cut branches that are less than 1″ in diameter in this manner.
Arborists and tree professionals are in high demand after a big storm. For example, the Arbor Roots crew is currently on call to provide first response services to cities nationwide that have been affected by major disasterous storms. Having your trees properly pruned and maintained is a great way to to try and prevent major storm damage to your property, and to protect your trees, yourself, and your wallet during major storm season.